There's no question that connection in the workplace is important.
In every company, the culture is a compilation of the values and mission of a company. Connectedness is one foundational aspect of a culture, and a sense of belonging arises in part from connectedness. This sense of belonging ultimately serves employees' mental health, overall performance, and much more.
Belonging is established within a culture of connection and collaboration that builds trust and leads people to feel comfortable, embraced, and valued. It results from an inclusive culture that promotes connections. Without a sense of belonging we feel adrift.
Yet almost half of employees say that feeling less connected is a key obstacle to successful virtual work
. Lack of connection has always been an issue in some form, and this sense of isolation and loneliness at work has been
exacerbated by the pandemic
.
Why are belonging and connection so important? Let's take a closer look.


Better social support = Better organizational efficacy
It's well known that humans are social creatures, and social well-being must be established in order to promote happiness and productivity. Our social well-being is related to our social identity, which is defined by our membership in groups. Social identity via group membership provides people with social support, which increases the organization's collective efficacy. Further, social capital, which is built through our connections and networks, contributes to our own, our team's, and our organization's effectiveness. Organizations that offer social support enjoy better communication and collaboration and less anxiety and burnout.
Cultivating non-work related social connections at work will ultimately give a boost to individual and organizational effectiveness. And in a remote or hybrid workplace, offering the opportunity to socialize helps strengthen important social ties between employees, reminding people of what they have in common and strengthening the social fabric of the organization. The strong the fabric is, the easier it is to get through hard times, give constructive feedback and take on challenges as a team. So, what must organizations do to support a sense of belonging? What adjustments are necessary to promote retention and strong performance?
It starts with offering employees the opportunity to establish a sense of belonging at work.
These are seven things you can do to promote belonging within your organization.
1. Create a climate of inclusion, equity, and welcoming.
Companies with inclusive cultures are 6x more likely to be innovative and agile according to Glint. Inclusive cultures make for more supportive, positive work environments that help retain employees, too. Deloitte found that 80% of people say inclusion is important when choosing an employer, and 39% would leave their current organization for a more inclusive one. What's more, we know that inclusivity drives innovation and creativity.

Questions to consider:
Could people of different backgrounds, ethnicities, abilities, races, generations, and gender identities belong and thrive at your organization?

Does everyone feel comfortable sharing their ideas?
It starts with psychological safety, defined by the
Center for Creative Leadership
as the belief that "others on the team will not embarrass, reject, or punish them for speaking up."
With psychological safety in place, employees can express themselves more freely. From a diversity perspective, psychological safety is required in order to help employees feel comfortable being who they are without fear of judgment.
Leaders' attitudes make a significant mark on company climate. HBR identified six traits of inclusive leadership: a visible commitment to diversity, humility, awareness of bias, curiosity about others, cultural intelligence, and effective collaboration. And the small stuff adds up - the research showed that everyday comments and actions from leaders make a big impact.
By creating a more inclusive culture where people can bring their true selves to work and express their opinions and ideas, you'll promote belonging within your organization.

2. Empower managers to share real-time feedback with employees, as well as real-time recognition.
Performance reviews have long been a critical tool for managers to provide feedback to employees. These reviews were traditionally done at an annual review when a manager and employee talked through what worked and what didn't work.
It's commonly accepted that the annual performance review leaves room for improvement. Communicating feedback on an annual basis can be frustrating - there could be missed opportunities to fix a mistake or alter a process. And hearing about a misstep later, when it's less likely to be remedied, doesn't build up goodwill between an employee and manager.
The better option is real-time, frequent feedback, communicated in a way that helps the employee grow and increase their contributions. Offering real-time feedback through regular team meetings and one-on-ones will create trust between the employee and manager (no second-guessing or trying to interpret silence), and it'll boost future performance. Over the long-term, employees will be better set up to achieve goals and make changes.
Real-time recognition helps employees feel like they're contributing to something bigger than themselves, and retention will benefit from this feeling. People gravitate toward workplaces where they have opportunities to learn and grow. Skewing toward positive reinforcement will help people will feel like they're a part of something positive, and that they belong in a positive workplace.
By setting up an expectation for real-time, transparent feedback, you'll build trust in your organization that sets a foundation for connection and belonging.

Gallup research shows that when employees strongly agree they received "meaningful feedback" in the past week, they are almost four times more likely than other employees to be engaged.
3. Find a balance between focusing on results and the experience people have in achieving those results.
Results are important, of course. Without achieving company goals, there would be no company. It's natural to set goals for your team as you begin transforming your workplace, but there's a balance to strike when pushing for results.
In trying to accomplish tasks too quickly, the experiences your employees have with your workplace culture and programs might be forgotten. And it comes at a price. Research from SHRM shows the cost of turnover due to toxic culture is about $223 billion.
Pushing employees at unreasonable levels can result in burnout, workplace stress, and more sick days. Unexpected absenteeism as a result of workplace stress currently costs U.S. employers over $200 billion dollars each year - and you can certainly begin to expect it if workplace stress becomes a factor.
As people become more stressed, they lose engagement. On a positive note, there's a reciprocal relationship between workplace engagement and lower stress levels. When employees feel more engaged, the benefits include reduced stress, improved health, and job satisfaction, as well as increased productivity, job retention, and profitability according to HBR. And when employees are less stressed, they're more likely to be in a place where they can engage with their work, connect with others and feel they belong. By focusing on community and celebrating shared progress as a team, you'll build a positive employee experience, one where employees can appreciate the destination as well as the journey it took to get there.
80% of workers report experiencing some type of workplace stress, but only 33% of employees feel comfortable reporting workplace-related stress to their supervisor.(mhanational)

4. Hire for alignment to the culture and values of the organization.
The benefits of hiring someone who aligns with your culture include better employee engagement, a better working environment, more referrals, and higher morale. A high level of cultural alignment can lead to more employee promotions, more favorable performance reviews, and fewer involuntary departures, according to HBR.
The costs of hiring someone who isn't a great fit for your culture include higher turnover, lower morale, and lower productivity.
If employees aren't aligned with the culture, mission, vision of an organization, they have fewer reasons to stay with the company or contribute to shared goals.
Testing for fit early in the hiring process is key. Look beyond experience and accolades and assess organizational fit through SHRM's
recommendations: structured interviews, structured questionnaires, or values and personality profile matching.
Because "cultural alignment" can be subjective, organizations should clarify their culture to employees and reiterate values as often as possible, sharing examples that demonstrate culture and values with the whole company. And when a new hire joins, help them understand the culture and feel like they don't just fit in, but actually belong.

On average it costs a company 6 to 9 months of an employee's salary to replace them. Replacement costs can be as high as 50-60% with overall costs ranging anywhere from 90-200%, according to SHRM.
5. Build a culture of feedback where people can share their thoughts and ideas.
A culture of feedback requires a sense of transparency, one where people feel like their opinion will be taken seriously and won't have social or corporate ramifications.
For an employee, seeing a company take feedback and make a change is a powerful signal that individuals' perspectives are respected and valued. And it impacts performance. Employees who feel their voice is heard at work are nearly five times more likely to feel empowered to perform their best work.
When managers and company leaders listen to employee feedback, employees feel a greater sense of engagement and trust.
Building a culture of feedback requires both upward feedback, where employees share their feedback on how the organization could function more effectively, and manager feedback, where a manager gives an employee positive and constructive feedback. As a part of upward feedback, employees should regularly take organizational surveys where they can share opinions on growth opportunities, company leadership, overall engagement, their sense of purpose, empowerment and more.
Take the pulse on belonging.
Conduct organizational surveys to learn about diversity, inclusion, and belonging at your company. Consider adding the following statement to your survey: "I feel a sense of belonging at [company name]."
Research shows that feeling a sense of belonging is highly correlated with employee engagement and business outcomes.

6. Recognize behavior that supports the culture and values of the organization and discourage behavior that goes against it.
An employee is making a big impact on the bottom line. But if they also exhibit toxic behavior, is the person ultimately a "cultural add"?
That's something for every organization to consider. But the bottom line is that behavioral standards should be the same for everyone, regardless of performance.
Start by giving swift, direct feedback. By acknowledging the behavior, you are building trust and credibility with the rest of the organization. Social psychologist Tessa West says it's a misconception that if someone is a "jerk at work," they're aware of it. The reality, West says, is that few people give negative feedback at work because it's uncomfortable.
This doesn't mean you have to take a hard-line policy and fire anyone who goes slightly against company values, of course. When someone demonstrates behavior that is counter to company values, educate them and help them understand why the behavior isn't aligned with how the company operates. Offer feedback on how they could do better.
Codifying and communicating your organization's perspective on behavioral expectations can build trust and clarify values. Start by asking, "How do we as an organization behave, both with internal and external partners?" and share the answer widely.
And when someone's behavior exemplifies company values, celebrate it.
Companies that score in the top 20% for building a "recognition-rich culture" have 31% lower voluntary turnover rates, according to research from Josh Bersin.
7. Ensure employees have a way they can connect and share with one another.
Socialization isn't just for fun; productivity was actually shown to improve by up to 25% in organizations with well-connected employees, according to McKinsey.
Communication can take a hit in remote, hybrid, and distributed environments. In-person socializing is especially difficult to replicate. By adopting mechanisms for socializing, you can offer ways for employees to connect and share like they used to in person.
A sense of community and belonging is bolstered within a company, even (and maybe especially) when groups are not work-related. Authentic connections between people are superior to the transactional nature of interactions in productivity tools, where people are stressed about providing timely feedback.
Leverage technology that facilitates belonging by fostering connections and genuine relationships that go beyond meetings. Having a distinct space for connection allows employees to take a breath and detach from work. The existing work structures and hierarchies, role expectations, work identities, and code-switching that happens automatically when work is being discussed are put aside or overcome.
An employee social platform like Wisq allows for spontaneous, quick social interactions and meaningful sharing between colleagues.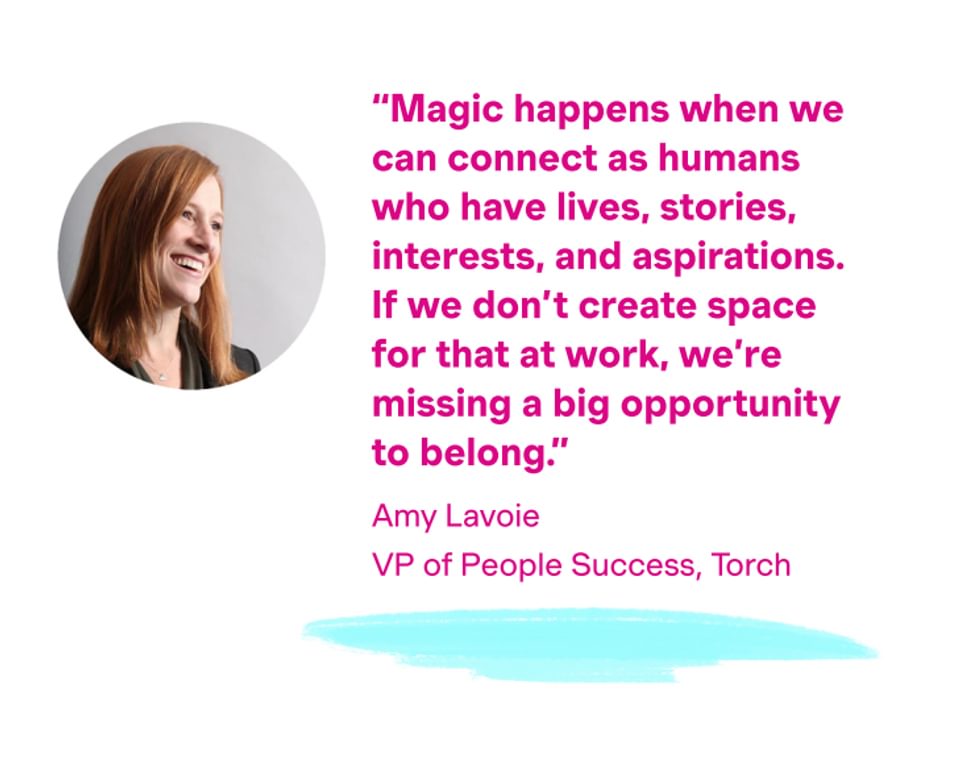 Conclusion
With the rise of remote and hybrid work structures, establishing and maintaining a social identity at work is now even more challenging. Fostering a genuine sense of workplace belonging doesn't happen overnight -it's a gradual and continuous process that requires regular effort from company leaders and importantly, dedication to building a supportive culture.
The elements listed above are just the beginning, and how you make them work in your organization will depend on efficacy and feedback. When you put in the effort to create real interactions, you're opting for a healthier social environment for employees.
To learn more about Wisq, get in touch with our Sales team or create a free account in minutes.