In the summer of 2020, Chris Perrotti, LogMeIn's (now known as GoTo) Chief of Staff met daily with his CEO, chief legal counsel and head of HR to talk through the company's transition to a completely virtual working environment, not just during the pandemic, but permanently.
"Early on, our CEO said that we're not going back to in-person, and that we should start thinking about what the future of work should look like," Chris said.
He would play a key role in defining the company's work-from-anywhere policies and the legal, practical and sustainable (LPS) framework to offer employees clarity on what was to come and the remote-centric work model the company offers today.
GoTo, a collaboration and IT support software company, had an advantage over many – the company makes products focusing on remote support, access and collaboration tools.
Still, the transition wasn't easy. Some offices would permanently close, and GoTo needed to change its hiring policies and rethink its operations with a remote lens. Critically, the leaders at GoTo had to consider how the culture would evolve to support its nearly 4,000 global employees.
GoTo's leaders had to think through a central question: how can you maintain a thriving remote culture for employees who used to enjoy going to the office?
Read on for insights from Chris's experience leading the fully distributed transition at GoTo.
A future of work that works for everyone 🤝
The company wanted to clarify its remote policies for its employees and set the groundwork for attracting and retaining talent going forward. Chris decided to make the move from Boston to Vermont, and he knew other employees would make similar decisions based on the newly announced remote policies.
Chris got a new role, too – he became VP of Digital Workplace in 2021 as the company continued to invest in creating a great remote work environment for everyone. As the leader of the Digital Workplace organization, Chris was responsible for the digital tools employees needed to be productive in their jobs. He also had to consider engaging people who weren't in-office and making sure that when some employees returned to a hybrid structure, they didn't receive an advantage over fully remote employees.
Chris's other focus was on information isolation and driving a more asynchronous, written culture.
"Whether you're new or someone who's been there for nine years, like I was, we wanted people to reduce the amount of time they were spending on meetings and video calls, so that they could spend more time reading, thinking, discussing or deciding," he said.

Bringing small talk to the digital world 🗣️
GoTo brought in a consultant who held a series of remote management workshops for the extended leadership team.
It was about offering people autonomy, Chris said, and giving them trust. Managers were encouraged to communicate clear expectations and ask for measurable outcomes. The consultant said that on video calls, "Talk about puppies and profits," a phrase that encouraged people to make time to learn about their colleagues before they got down to business.
"You have to replace the three minutes before the meeting, the friendly chit chat when people get settled," Chris said, adding that the chatting is hard to replicate unless you're intentional about it.
Chris used a check-in question at the start of every executive team meeting. The check-in questions caught on throughout the company, so Chris published a list of suggested conversation starters on the intranet. One example: "What do you put on your hotdog?"
"The questions would spark conversations, and they really helped to bring the teams together in a way that just getting the job done didn't," Chris said.
Building awareness of others' needs 🙋
In the remote workplace, people are more acutely aware of their colleagues' responsibilities at home. A dog might bark during a call, or a kid might wander into the office. And for some, remote work meant that they needed flexibility because they were caring for children, relatives or immunocompromised partners.
GoTo created personas, a visual system through which employees could indicate their personal responsibilities. The personas included: I'm home alone; I'm working at home with small children; I'm working at home with school-aged children; and I'm a caretaker. The company created Slack icons and guides with best practices for each persona.
"Using the icons created a culture of empathy and understanding in the early days, which I think really went a long way to build connections and engagement among the employees," Chris said. "It gave people a way to quietly share their needs."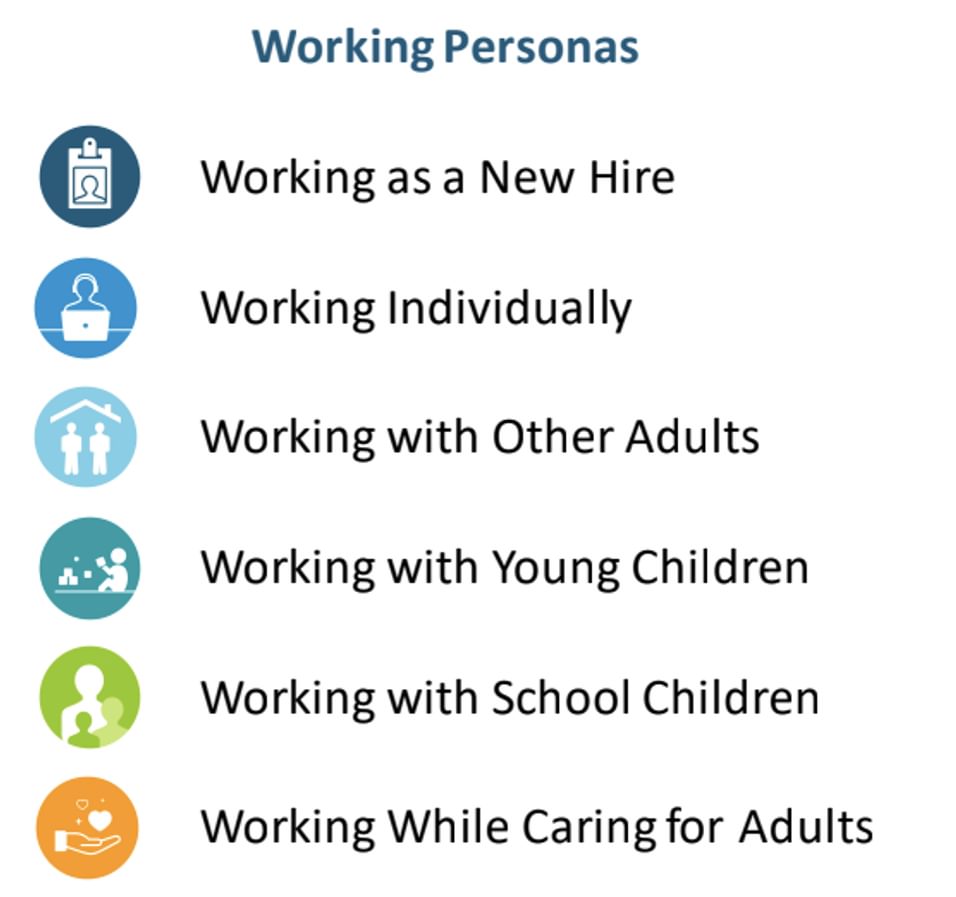 Chris said employees felt like they were heard and seen, like the company was sympathizing with them as humans and not just as employees.
"It was a way to acknowledge that no matter how successful or senior you are, everyone was dealing with something during that time," he added.
Optimizing digital work tools > introducing new tools 💻
Because GoTo was already distributed during the beginning of the pandemic, the company could focus on optimizing and adopting the tools it had, including Office 365 and Slack, instead of introducing new ones.
The company used its own GoTo Connect video conferencing platform, and it focused on making Slack a tool that could be used asynchronously. Along with a seat booking system for the company's offices, GoTo rolled out a pulse survey to ask questions around the remote experience, and it revamped the onboarding process, from getting a laptop to trainings.
"I would say we took a 'lead from the front' approach regarding flexible work. GoTo's leaders wanted to give people permission to set their own boundaries," Chris said.
Additionally, GoTo published a monthly 5-15 minute video segment with remote working tips and best practices. For instance, some leaders would include email signatures with phrasing such as, "I'm working flexibly, at the time that works best for me. I understand that may not work best for you, so you don't need to respond to this email as soon as you receive it."
Values fit for the remote environment 👨‍💻
GoTo rewrote its values to reflect a 100% remote, flexible work environment.
"We took the opportunity to be declarative about our culture," Chris said.
"What we landed on is that GoTo has an empathetic culture. One of our values is 'be real,' which I particularly like because that's about being embraced for who you are and getting the work done," Chris said, adding that the culture is direct and very collaborative.
"[The culture] is not hierarchical in any way. We had leaders who were willing to mentor, answer questions and be real. GoTo's culture is about driving innovation and giving everyone the opportunity to contribute."
The lessons learned from the shift to WFH ✏️
Chris said he learned a lot from his nine years at GoTo, particularly the shift to remote.
It's hard to be authentic and remote. And it's easy to hide behind your camera and be scripted, Chris said. But if you're a leader in a remote setting, you have to make a conscious effort to show who you are as a person, on camera, in email or in your meetings. For example, when he would host monthly business reviews for the company from his basement. Chris would light the fireplace, play music during the break and stoke the fire during the meeting. Simply offering people a glimpse of who you are and choosing to keep the camera on can create conversations, he added.
Don't assume that going remote is going to save you money. Chris said that if you close an office, you should reallocate the funds to employee engagement, pulse surveys, employee events and get-togethers, travel and software.
Focus on giving people access to information, and be consistent with it. Think about the entire employee lifecycle with a distributed lens, Chris said. How does a candidate come to know about you? How are they onboarded, and how do you create a welcoming culture from day one where they get that buy-in and feeling of belonging? And when people depart a remote, distributed company, how do you offer employees closure?
For more information on Chris Perrotti, find him on LinkedIn.
Read more about Remote Onboarding on the Wisq blog.